Killer of the Killers 殺手?
Hsu Fu-hsiang 許富翔/ Taiwan/ 4min/ Ch/ En subs (中/英)
Narrative: Being a professional is important for a hit man, but there are always loose ends.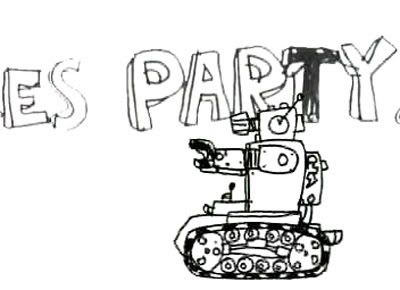 ►台灣首映
Dark Disco and The Breeder全民懂ㄘ
Eko Nugroho/ 2006/ Indonesia/ 4min/ no dialogue (無)
Animation: Sort of like a rock 'n roll Monty Python cartoons with a global political edge.
**2006 Taipei Biennial artist
動畫:表面上是一部簡潔又爆笑的動畫片,隱含了導演犀利的政治觀點。
**參展紀錄:2006台北雙年展
Woodman 2: BBS Fighting 木偶人2
Hero a.k.a Lin Shi-yong林世勇/ 2004-2006/ Taiwan/19min/ Ch (中)
CG: "It all started from BBS" – the Internet-based bulletin board systems that are the home and major communications channel for Taiwanese youth. In 3-D animation with references to Hollywood action films and epics, Lin stages a wholly original BBS war fought around the real web site he calls home: kusos.com.
**2006 Bronze Medal, Taichung Creation Movie Competition
CG:BBS是台灣年輕人的生活寶典,巴哈姆特的KUSO版更是最熱門的討論區之一,總是瀰漫著一股歡樂的氣息,但…人紅是非多,版紅小白多!不遵守版規的大白這次將集結小白大軍,向KUSO版進行大規模的破壞行動。KUSO版究竟能否度過危機,就看木偶人大展身手。
**參展紀錄:2006 台中小金馬銅牌獎
►台灣首映
Maritess vs. Superfriends馬莉塔斯的超人朋友們
Dino Ignacio/ 2002/ Philippines/ 7:30min/ En/ Ch subs (英/中)
Animation: Ignacio teamed up with Filipino comic Rex Navarro for this parody of life as a migrant worker. It shows a Filipino maid who gets a job (but not a visa) working for the Superfriends.
動畫:導演Ignacio與菲律賓喜劇演員Rex Navarro合作,譜出這首關於移民勞工的諷諭詩。故事為一位受雇到超人家工作的菲傭,主人身為超人,卻無法替她取得簽證…
►台灣首映
Thai Workers in Taiwan: A Lottery for a Life Long Debt台灣夣泰辛苦
Thai Labor Foundation泰國勞工基金會/ 2006/ Thailand/ 25min/ Thai/ En + Ch subs (泰/中+英)
Documentary: Women Thai migrant laborers tell their nightmare experiences of working in Taiwan once they return home. For placement in Taiwan, many Thais borrow exorbitant sums of money to pay broker's fees. But they receive no guarantees, and if they are unlucky or fail during the trial period, their employer can send them back home, where they find themselves saddled with huge debts and unforgiving shame.
紀錄片:泰國婦女回國之後,訴說著她們在台灣工作的種種,猶如一場惡夢。她們往往支付來台的仲介費,而欠下大筆債務。然而,這只片面合約讓她們隨時懷著被遣返的恐懼;回到家鄉,面對的是龐大的債務與親人的不諒解…