Rooftop Antics 頂上開趴
Every Saturday night at Urban Nomad, we like to turn film into a party and watch films where you can just drink beer and shout at the screen. This is stuff like skateboard and surf vids, animation, music videos and low-brow comedy.
每逢星期六,我們希望你帶著聚眾鬧事的心情來城市游牧,一邊喝啤酒,一邊欣賞滑板、衝浪、動畫、音樂錄影帶、低級笑話…千萬別對著螢幕扔酒瓶。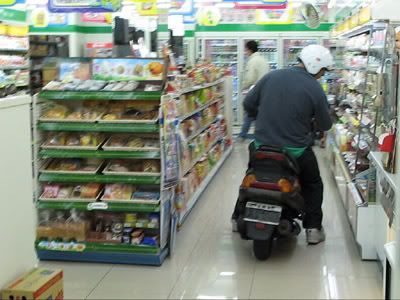 Suprematist Kapital 資本主義萬萬歲
Yin-ju Chen and James T. Hong/ 2006/ US/ 5min/ no dialogue (無)
The brief HI$TORY of the modern world in high-ãontrast ICON$.
**2006 San Francisco International Film Festival
舊金山導演James Hong以符號來敘述現代歷史。
參展紀錄:2006 舊金山國際影展
►台灣首映
Jenny and Adsponse.01
Eko Nugroho/ 2006/ Indonesia/ 1:43min/ no dialogue (無)
Punk animation. 朋克動畫
Donkey Mountain 驢山
Erin King/ 2007/ Taiwan/ 9min/ no dialogue (無)
Psychadelic documentary: Ah! Rocket Girl! What evil looks/ Had I from old and young!/ Instead of the cross, the Albatross/ About my neck was hung.
幻想記錄片,應該是春吶的某一個早上拍的。
Earthquake Island寶島上的板塊運動
Tubetime Productions/ 2007/ Taiwan/ 12:30min/ no dialogue (無)
All Taiwan waves, all Taiwan rock.
熱浪台灣,搖滾台灣
Wilson
Hsu Fu-hsiang許富翔/ Taiwan/ 8:30min/ no dialogue (無)
Animation: Tripped out voyaging. 幻想旅遊記。
Men's Longboarding Kenting Cup
墾丁男性衝浪長板杯
Jason Sedor/ 2006/ Taiwan/ 6min/ no dialogue (無)
These guys are definitely "hanging ten" at the 1st Kenting Cup Surf Tournament with music from Red-I and the Riddim Outlawz.
衝浪配雷歸音樂,好舒服阿。
►世界首映
Convenient 便利
Kelley Deion/ 2007/ Taiwan/ 3min/ no dialogue (無)
One guy is definitely in a hurry as he rushes through a Family Mart while his friends look on.
隨便停車不夠方便,直接將小ㄅㄨㄅㄨ開入便利電才對啦!
Cosplay
Loren Von Hogue/ 2007/ Taiwan/ 6min/ English (英)
An investigative look at what goes on under the costume as a recent Cosplay convention in downtown Taipei.

Dadu
Jason Sedor/2006/Taiwan / 5:09/no dialogue
Who needs a surfboard? Patrick O'Leary does pretty well with just a pair of fins!
沒有板子還可以衝浪!!!
Les Humains
Thien Vu Dang/ Canada/ 4min/ Fr/ En subs (法/英)
A music video for the band aKido.
樂團aKido的音樂錄影帶
Yi Ren, BayBay and A-Mei
Jason Sedor/ 2006/ Taiwan/ 5min/ no dialogue (無)
三位台彎的女高手衝浪,圖騰配樂。