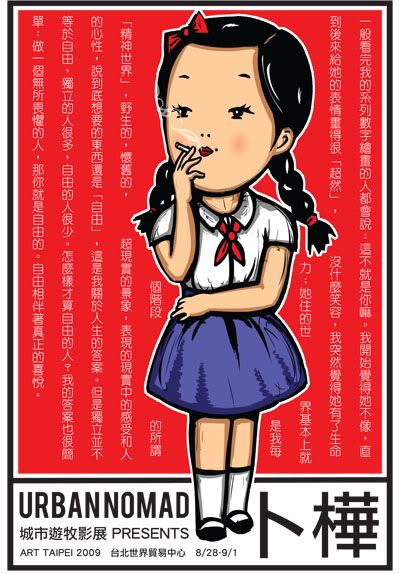 (for English scroll down)
我們好興奮嘍,因為收到 Art Taipei 2009 (台北國際藝術博覽會) 的邀請,更何況有冰淇淋的 sponsor, 所以我們準備 Ice Cream Party!!!! 給大家吃免費的冰淇淋!!! 因為需要跟博覽會協調,說我們需要多少冰淇淋,麻煩個位要參加的朋加入這個
Facebook活動
,為我們方便判斷需要準備多少。至於節目的部份,博覽會的五天,我們其實每天都會播放 video art 的影片, 冰淇淋派對時要播放卜樺的動畫作品,她是一位很棒的大陸藝術家,要跟大家分享她的天分!其他內容如下:
8/28 Friday 17:00-18:00
COSPLAY – 陳明秀與其他導演以探討青年打扮成漫畫人物的短片與實驗片。
8/29 Saturday 17:00-18:00
ICE CREAM PARTY + 卜樺 - 來自網絡的 Flash 動畫次文化年輕創作者。
8/30 Sunday 17:00-18:00
沒問題俠客去衝浪 - 媒體惡搞高手沒問題俠客從未播公開的短片。
8/31 Monday 13:00-17:00
年輕台灣影像創作者 - 來自 2009 年城市遊牧影展的第二螢幕節目,藝術與實驗電影片單。
9/1 Tuesday 13:00-17:00
遊牧影展的祕密收藏 - 或許不可思議,或許不可忘記。
來參加我們其實建議大家早一點到了,藝術博覽會裡有差不多100個畫廊攤位,要展覽許多亞洲地區藝術家的新作,個位來欣賞吧!
藝博會入場費:
$200 / 學生 $150 (冰淇淋是免費的)
地址:
台北世界貿易中心 展覽大樓 ( A + D 區) 台北市信義路五段五號
更多資訊:
http://www.art-taipei.com/CHI/event.html
ENGLISH INFO:
We will be showing short films and video art at the art fair Art Taipei 2009, so we decided to have an ICE CREAM PARTY! With sprinkles, chocolate syrup, and maybe some booze.
The Ice Cream Party is Sat, Aug 29, 4:40 - 6pm. Get there early! Also, if you're coming, please join our
Facebook event
, so we know how much ice cream to prepare. Also, don't forget to check out the art. Around 100 galleries from around Asia will be showing the latest contemporary works from scores of artists. It'll be rad.
Art Fair Admission:
NT$200/ $150 students (ice cream is free)
Location:
Taipei World Trade Center (Area A&D), Xinyi Rd, Sec. 5
Art Taipei 2009 website:
http://www.art-taipei.com/ENG/event.html