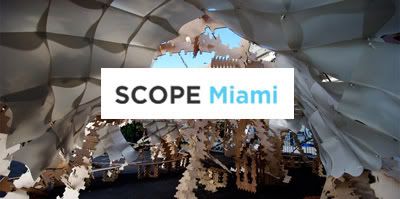 We've been invited back to Scope, the rock 'n roll art fair, for its
Miami edition
in early December, and are currently collecting films. We've already got new stuff from Taiwan, SF indie filmmaker James Hong, Wholphin and a few other sources. If you, yeah YOU, have anything, send it our way. We leave from Taipei on Dec. 1, so we better get it before then. Also, we'll distribute film fliers and postcards at the event, so please send a small stack with your NTSC DVD.
Urban Nomad's director, David Frazier, may also be giving a talk as part of a lecture series. More on that later.
For now, here's the basic fair info:

Location:
Roberto Clemente Park
101 NW 34th St
Wynwood Art District, Miami
Dates:
FirstView December 5, 2007 10am – 5pm
Daily December 6-8, 2007 10am – 8pm
Decemeber 9, 2007 10am – 6pm

Admission:
General Admission $12
SCOPE VIP Card FREE
PRESS RELEASE
MIAMI
– SCOPE, Miami's original emerging art fair, returns for its fifth year in Miami, expanded in size and global in reach, with 95 exhibitors from 28 countries, and a new 60,000 square foot pavilion at 101 NW 34th Street (NW 2nd Avenue) in Roberto Clemente Park in the Wynwood Art District.


Over the past five years, SCOPE, the first art fair to bring emerging galleries such as Peres Projects, Daniel Reich, John Connelly Presents, Taxter & Spengemann and Marella Gallery to a wider audience, has given many now-prominent emerging artists like Assume Astro Vivid Focus, Scissor Sisters and Black Label their first significant international exposure.


With total sales of nearly $100 million and attendance of over 250,000 visitors, SCOPE has drawn wide media attention including CBS News, The New York Times, Vanity Fair, The Wall Street Journal, The Financial Times, Art in America, and ArtNet Magazine, which wrote, "Of the various art fairs in Miami, it was SCOPE that served up the best, both inside and out."