LINK TO THE
UN07 HSINCHU SCREENING SCHEDULE
(in Chinese) - or see the bottom of this post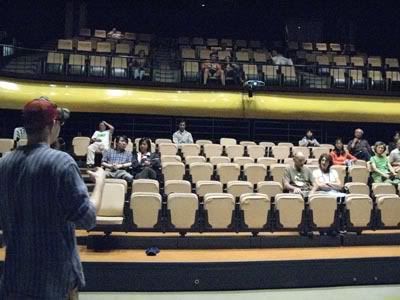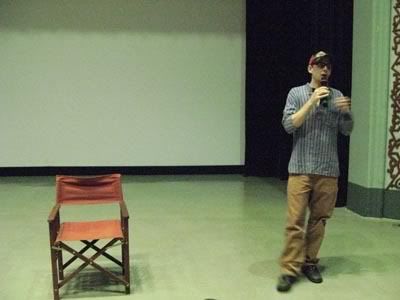 We finally made it into a theater with
Urban Nomad beginning a week-long run at the
Hsinchu Image Museum.
Here's a couple of pics from the kick-off
event including a little down-time, and a Q&A session
for two of our own films, "2days Cosplay"
and "Convenient".
UN runs throughout the week at the Hsinchu
Image Museum located at 63 Jhongjheng Road (just 5 minutes
walking from the Hsinchu train station) from Tuesday- Sunday
with daily screenings at 2PM and & 7PM.
Of special interest is a retrospective of
our Wu Tung-Wang our "director in focus" on
Saturday, May 26, at 2PM.
Wu will present his work such as
short films "And Now Happiness" which appeared at the
Sundance Film Festival, and most recently,
"Hot Throbbing Cock" which was showcased
at this year's New York Underground Film Festival.
The screening will be followed by a filmmaker Q&A with
well-known film critic Li Yo-Hsin who will also be on hand
along with 30 students from his film studies course.
And did we mention that residents of Hsinchu get
free admission to all screenings?
HSINCHU SCHEDULE
5/19 10am ROOFTOP ANTICS
5/19 2pm GAME OF THEIR LIVES
5/19 7pm A STATE OF MIND
5/20 10am THE STORY OF MY LIFE: SHORTS I
5/20 2pm Director in Focus: Lynn Chen and Stupid Weird Modern: Shorts 2
5/20 7pm Local Documents/ Local Memories
5/23 7pm ASIAN UPHEAVAL: Shorts 3
5/24 7pm PROFESSOR ZHANG
5/25 7pm TO LIVE IS BETTER THAN TO DIE
5/26 10am EXPERIMENTAL ROOFTOP
5/26 2pm Director in Focus: Wu Tung-wang
5/26 7pm Chasing, Running, Jumping, Colliding: Shorts programmed by Tony Wu
5/27 7pm WHOLPHIN shorts
5/30 7pm TODO TODO TERROS
5/30 7pm CHIAYI SYMPHONY + NEW SOCIAL MOVEMENTS: Shorts 4 or 5