►
全部台灣首映
ASIAN UPHEAVAL
鏡
困
亞
洲
︰短波四
From Taiwan, poverty is only a quick flight away. Here we look at the lives of our poor neighbors in the Philippines, Burma, Indonesia and also wealthy Singapore
in
their struggles for human rights and democracy.

從台彎,搭飛機一兩個小時就到貧窮國家。菲律賓,印尼,緬甸都目前或曾前體驗到人權災難,富有的新加坡也為了民主奮鬥,這個節目理都是在地拍地這些故事。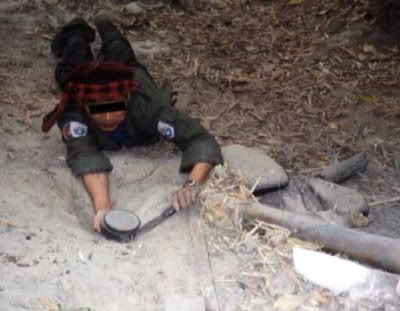 A Long Struggle被包圍的聲音
Lea Rekow/ 2005/ Australia/ 18:30min/ En/ Ch subs (英/中)
Documentary: Armed with a pinhole camera and posing as a school teacher, filmmaker Lea Rekow secretly crosses the border of Thailand into Burma to document the government's extermination campaigns against ethnic minorities.
紀錄片:導演Rekow冒著生命危險,以教師身分偷偷從泰國潛入緬甸,他身懷針孔攝影機,紀錄了當地政府為斬除異族的暴戾行徑。
**參展紀錄:Tribeca 影展 2006
Banda Aceh Comix 海之宴 人之過
Eko Nugroho/ 2005/ Indonesia/ 1min/ no dialogue (無)
Animation: Post-tsunami political satire.
Squatterpunk
Khavn de la Cruz/ 2007/ Philippines/ 12min/ no dialogue (無)
Documentary: Khavn's films rake Manila's slums with an eye for tragedy and an ear for rock 'n roll. It's like the global economy is the rock star, and the Philippines is its hard-living failing liver. This film is a shorter version of Squatterpunk, for which he won the Grand Jury Prize at 2006 Cinemanila. It shows an impoverished kid with a mohawk rockin' away in the landfill of the global village.
紀錄片:去年導演Khavn僅以一塊菲律賓傳統腰布遮身,現身鹿特丹影展對觀眾叫囂,抗議全球化造成更巨大的弱勢窮問題。Khavn的鏡頭也總是在馬尼拉貧民窟來回穿梭,當菲律賓碰上全球總體經濟,就像在白浪中顛簸殘喘的一葉扁舟…我們一面為眼前的悲劇掉淚,一面擁抱像搖滾樂這樣的全球產物。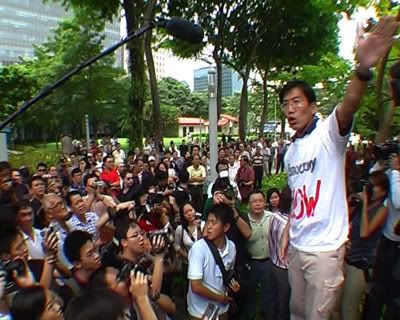 Speakers Cornered被包圍的聲音
Martyn See施忠明/ 2006/ Singapore/ 27:30min/ En/ Ch subs (英/中)
Documentary: IMF-World Bank meetings are generally wracked by demonstrations – except in Singapore in 2006. This is a recording of the only public act of defiance.
紀錄片:IMF世界銀行每次開會,都遇上抗議人士干擾,除了2006年,因為他們來到新加坡…本片紀錄了現場唯一的抗議活動。
Apple 蘋果
Sherad Anthony Sanchez/ 2005/ Philippines/ 11min/ Tagalog/ En subs (非/英)
Reality fiction: In a shanty-town slum in Davao, the Philippines, a young teen girl is called off a playground by a man smoking a cigarette, who ushers her to a waiting car. This transaction is shot plainly in mini-DV, and through this simple window, the reality shifts from innocuous kids games to a young girl's horror. Older women sing "Cristianos, ease the pain in purgatory, the pain earned from sins on earth." How do third-world families sell their daughters into prostitution? Like this.
**International Film Festival Rotterdam
真實敘事:達浮澳,一個貧窮的小鎮,一名正在玩耍的少女被男人喊住,接著被一輛陌生的車子帶離原本單純的童年。導演以手提DV捕捉到這場,既是成人世界的供需買賣,也是少女被轉手給魔鬼的交易,第三世界的生死離別,得是如此。
Hopia Express交錯之間的愛戀
Janus Victoria/ 2006/ Philippines/ 13:30/ Tagalog/ En subs (非/英)
Narrative: An immigrant storekeeper has a crush on a local who's keen to emigrate.
**Best Short Film, 2006 Cinemanila International Film Fest
敘事:剛搬來的雜貨店老闆偷偷暗戀想搬走。一個剛來,一個要走,且看他們緣分?
**參展紀錄:2006馬尼拉國際影展 最佳短片