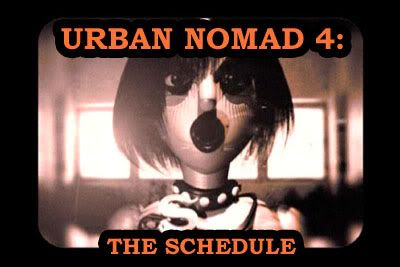 Friday, March 25

OPENING FILM: DOCUMENTARY
7:30
Shanghai Rose by Michelle Lang 22 minutes
A young American Born Chinese goes in search of her roots, traveling with her grandmother back to Shanghai. A touching story of courage amidst war, and the trouble adjusting to change in contemporary China.

BUNUN FOCUS: COSMOS VS. HISTORY
8:00
Rendezvous With the Moon Dean Karalekas 23 minutes
A young child, disillusioned with his tribe's performance in front of goggling tourists is consoled by a Bunun tribe elder, and told his tribe's poignant myth of the difficulties of living under two suns.
In Our Hearts and Minds Steve Martin 8 minutes
A documentary featuring the Laipunuk Bunun Tribe and one village elder who served the Japanese army in Papua New Guinea. A first hand account of cultures in conflict and the survival of the human spirit.

STRAWBERRY WISHES: STUDENT SHORTS I
8:40
Snake 蛇 Zhou Hou-zhong 周侯仲5 minutes
Bushes, rippling water, a cow bell in the distance, and a sense of longing. A youth reaches for the sun.
A Breathing Apartment Lin Chun Jen 林俊彥 2 minutes
What if a building had lungs?
Urban Rhythm 城市節奏 Huang Wen-xian 黃文賢 5 minutes
A mix of animation and buying milk at 7-Eleven.
Killing Kafka Sice Wang 王志欽 5minutes
A re-creation of an actual murder complete with countless cigarettes rough pacing and hair raising philosophical tension.
Black Dot Summary黑點情節 Chen Zi-yu陳姿予 5 minutes
Do you open automatic doors just to hear the beep? A short catalogue of urbanites' idiosyncrasies.

CULTURAL AMBUSH: EAST VS. WEST
9:00
Taipei 101: A Travelogue of Symptoms James T. Hong 23 minutes
An American Born Chinese returns to his roots only to find it exactly the same as America. He trains his camera on fat Americans, local film directors, and just about anything else that comes into this spiteful gaze.
Nineteen Seventy-four by Darin Caudle and David Bott 23 minutes
We didn't ever expect anyone would make a good Taiwanese girl student-English teacher seduction movie. This film looks at the subject seriously and succeeds. It's unflinchingly (and almost uncomfortably) real.

GET A LIFE: TAIPEI SHORTS I
9:45
Manipulation Darrell Gallant 2 minutes
This is sort of like cable TV in Taiwan. Actually, it's exactly like cable TV in Taiwan.
Little Green Lake Norman Szabo 1 minute
Bitan, set to music.
Living the Dream Norman Szabo 5:30 minutes
Fiction. A man takes part in an experiment to make himself more successful.
Telephoney Sean Scanlan 4:30 minutes
Cell phone calls are such a pain in the ass. Fuckin goddam!
An Alter-ego of Thorsten Madsen by Hanna Hanna Leanderdal 4 minutes
A confused testimonial to a Danish novel.

GET YOUR PERV ON: EROTIC SHORTS I
10:00
Innocent Life by Machunfu 9 minutes
CG anime about an innocent blow-up doll who gets abused by her new owner. Sex and PVC, you can't go wrong.
Carmel Macchiato by Yusuke Kun 5 minutes
An erotic food thing by Japanese art/experimental film director Kun. It's a sensual shrimp curry.
Shakedown: Portrait of a Club, Diary of a Dancer by Leilah Weinraub & Pilar Wiley 10 minutesA short documentary about black lesbian strippers in Los Angeles, California and their clientele. The booty is bumping, the dollars are flying, the music is off the hook!
The Pair Wang Ta-wei 汪大緯 7 minutes
It feels good, but…oh my! O my gosh!

MOVING IMAGES: EXPERIMENTAL FILM
10:45
Noah, Noah Tony Wu吳俊輝 20 minutes
Acclaimed experimental filmmaker, Tony Wu, shows his most literal movie to date, beginning with an e-mail correspondence with a San Francisco based friend, later traveling via train and plane to a city consumed with gay consciousness.
The Ghost of Huashan by Trista di Genova 28 minutes: Resident activist di Genova keeps the camera running on the last night of Huashan before the arts complex was taken over by the evil Council for Cultural Affairs. Basically, this is just a bunch of drunk people, mostly our friends. Read more about it on Trista's web site.



Saturday, March 26



FILMMAKER FORUM: HI-DEF FILMING
5:30pm
Tobie Openshaw, of the leading video software maker
Ulead
, gives this free 40-minute presentation on high-definition cameras, software, and editing techniques.

RURAL NOMAD: DOCUMENTARY
7:30
Yol D's Marata Amanda Donigi 16 minutes
In some of Papua New Guinea's languages, a marata is the word for sago palm leaves. A marata house is one thatched with such leaves. This documentary from PNG shows 17-year-old Yol Israel Donigi weaving his roof.

STRAWBERRY WISHES: STUDENT SHORTS II
7:45
The Passage 一個過程 Chen Wei-Hung 6 Minutes
Cool images and other op-ed effects are artfully choreographed in this student film which may cause epileptic fits, dizziness, and a general mindfuck if watched for too long. Hey we warned you!
I guess, who knows Jamie Wang王家敏, 6 minutes
Ever wonder how many surveillance cameras are in your neighborhood? Well this student film maker did a little research, hopping from camera to camera, eventually settling back onto the sofa and speculating just what the hell people are doing as viewed by his apartment's surveillance system.
Jaio Huan 交歡 Dan Jing-lin 詹京霖 5 minutes
Dali paraphrased: a melting clock.
Savage Apartment Chang Jya Wei張家維11minutes
Five students put on wigs, fake beards, and recreate a life when people lived outdoors amongst the mosquitos. A hilarious take on modern life, and some pretty good cave-man like sets.

GLOBAL CRISIS: DOCUMENTARY
8:15
Boom Kenton Harmer 15 minutes
An aide worker ducks mortar shells and carries injured victims as Liberian rebels herd the population into an overflowing soccer stadium. A lesson in humanity at its worst, and lots of blood to boot.
Those Left Behind Kloie Picot 10 minutes
Taipei resident Picot filmed this footage in Sri Lanka during the second month after the killer tsunami devastated the area. She turns her camera lens to the ongoing relief effort and political turmoil of the island nation.

CLOAKED IN IRONY: NARRATIVE SHORTS
8:45
Fries Wang Ta-wei汪大緯3 minutes
Nobody eats lunch this way. Nobody should.
Mold Wang Ta-wei汪大緯11 minutes
Comic surrealism meets film noir: A private investigator tries to recover a stolen object and get a lot of sunlight; she's suffering from mold.
No More Sympathy For Bastards and My Lover Patrick Tsai 13 minutes
A man, fed up with his wife and adorable child, first tries to kill himself by smoking cigarettes, later throwing himself off a building. Boy, was he pissed off at his wife.

AUTEUR IN ACTION: SOLO SHORTS BY MARC D'ANDRE
9:15
Marc D'Andre is a malcontent LA-NY scenester documenting an entire era from the inside of his own apartment. That's right, to be a guerilla, you don't have to go outside anymore.
Vegas Marc D'Andre 2 minutes
What happens in Vegas doesn't always stay in Vegas.
Good Gum Marc D'Andre 2 minutes
If you had telekinesis, that would be, like, really cool.
Hex My Ex Marc D'Andre 5 minutes
Guy who just broke up with his girl friend: "Could you put warts all over her face and make her real ugly? Hex hit man: "Do you want me to do the dog too?"

GET A LIFE: TAIPEI SHORTS II
9:25
Lady X Preview T.C. Lin 2 minutes
Local director T.C. Lin won the web-based Lady X competition (
http://www.ladyxfilms.com/
) and was commissioned to make the spy series' hour long finale. Here's a sneak preview.
The Crazy 8 LAX 6 minutes
Kind of like Superfly, but at Taipei Sports Bar.
The Coffee Run Sean Scanlan 2 minutes
A fat guy caught in traffic.
The Beautiful Film Anne 6 minutes
Six one-minute clips from six directors around the world.
Kai Wan Jason Sedor 4 Minutes
During a quick Taiwan tour, pro surfer Kai Otton busted some airs and hit some floaters and shit.
Others to be announced...

L.A. ROCKUMENTARY
9:50
Tortured by Joy by Henry Griffin 10 minutes
Both of these films have made the rounds of the North American underground film fest circuit. Tortured by Joy is short film narrated by acclaimed hipster, socialite, and leader of NY's Lounge Lizards, John Lurie. Friggin' hilarious. It was recently distributed as DVD supplement to the US pop literary journal The Believer. There's a bit to read on both films if you Google them. I'd provide links but for some reason the Internet is oddly slow right now.
The Tooth by Marcel Dejure 28 minutes b&w super 8
The latest surrealist directorial bow from festival co-founder Marcel DeJure, features among other things, political intrigue, a shady netherworld, mind-controlling hallucinogenic teeth and the cumbia band The Very Be Careful.

AWARDS
10:30
Lucky draws, give-aways, and prizes for Urban Nomads of note.

SATURDAY NIGHT SPECIAL: VARIOUS
10:45
Incarnation Tony Wu 吳俊輝 6 minutes: A film recycler, Tony Wu, presents a short film based upon found imagery which he manipulates with swatches of color and other visual distortion
Total Mobilization James T. Hong and Chen Yin-ju 12 minutes: A pretty good "ant" movie by most standards, as a long, macro lens is used to trace the all-too-short lifecycle of ants from larvae to drone armies which consume a cheese-shaped cutout of the US
Turn the Turntable, (Three Cup of) Coffee, Henry, Memory of Hair, Umbilicus: Experimental Shorts by Wang Ta-wei汪大緯 14 minutes
A Story About the Box by Machunfu 23 minutes
Is that vomit or semen on my dead gay lover?
Pili Cat by Yang Zhi 10 minutes
Grandma Yanlin by Wang Duan-yu 5 minutes.