台北藝術村 台北市北平東路7號
Taipei Artist Village, 7 Beiping E. Rd, Taipei
地圖 Map
7:30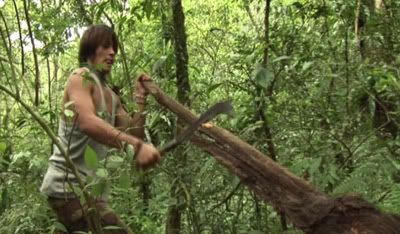 Shorts 4: Documentary
短波四:紀錄片
就像蘇格拉底講的,未經檢討反省的生命是沒有生存價值的生命,這些短片是真實的血淚紀錄。「山上」描寫一位泰雅族青年,出獄後,嚮往回到打獵生活,卻幾經波折,現實的嚴峻考驗不斷逼迫而來。「陳跡」1949年大陳島撤退的第一手知料。「莫比烏斯」敘述變性後,如何從新面對人生,也讓別人來接受自己。另外也探討流浪狗議題,人們上班的行程,等等。
That's right, the unexamined life and all that. These homegrown documentaries are important. Hla Huy is a wonderful documentary on an aboriginal youth who tries to recreate a life for himself after getting out of jail. His dream is simply to hunt, but in this day and age, life is never that simple. Other stories give first-hand accounts of the 1949 immigration from the Dachen Islands, life after switching genders, the stray dog problem and going to work.
The Footprint of Ta'Chen 陳跡
Li Hsin-hua 李欣樺/ 2009/ Taiwan/ 12min/ Ch/En 中/英
Mobius 莫比烏斯
Hung Wei-ting 洪瑋婷/ 2009/ Taiwan/ 17min/ Ch/En 中/英
Transfer Point
Jenny Lin/ 2007/ Canada/ 5min/ no dialogue 無對話
Return + Fantasy
Chen An-ju 陳安如, Huang Chi 黃琪/ 2008/ Taiwan/ 4min/ no dialogue 無對話
Hla Huy 山上
Huang Yu-fang 黃郁芳, Lien Zhi-kai 連智凱/ 2007/ Taiwan/ 27min/ Ch/Atayal/En 中/泰雅/英
Await 等,待
Huang Min-yen 黃閔彥/ 2009/ Taiwan/ 12min/ Ch/En 中/ 英
9pm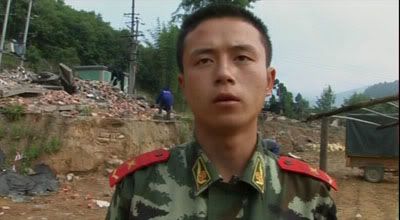 Who Killed Our Children? 誰殺了我們的孩子?
Pan Jianlin 盤劍林/ 2008/ China/ 92min/ Ch/En中/ 英
無常的天災與人為的失誤造成四川大地震震央一所學校的傾塌並奪走無數孩童生命,究竟真相為何?盤劍林導演用鏡頭展現中國百姓備受壓抑的憤怒絕望與未找出的真相.此過程中我們也能感受到中國人的一種新精神,這不只是老百姓對共產黨和人民共和國願意表示懷疑,更事他們現在相信真相有不可否認的價值,是值得仔細檢查每個所謂的實事與說法。
A feature documentary exploring both the terrible tragedy and the human error that led to the death of 300 school children in China's Sichuan Province. The camera provides eyewitness evidence that school officials "locked" their students in classrooms during a rest period when the powerful earthquake struck. Already condemned by building officials, the school crumbled to the ground with few managing to escape. In the aftermath of this tragedy, parents bury their only children in shallow graves near the school, and search for a way to express their grief and anger over the event. This controversial documentary nakedly pursues the truth about this incident without fear of government censorship.