Paris Night Club, 89 Wuchang St., 5F
夜巴黎餐廳 台北市武昌街89號5樓
地圖 / Map
門票 / Tickets: NT$700/ NT$500 advance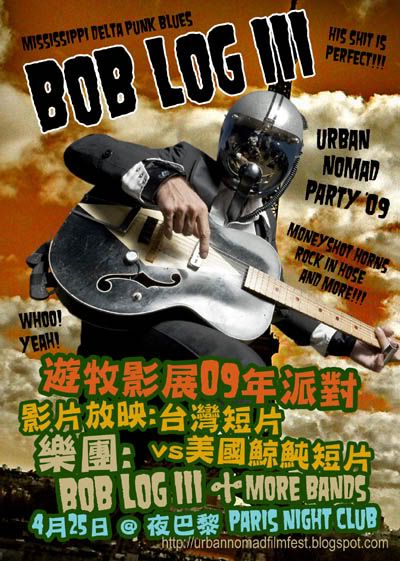 BOB LOG III @ FUJIROCK 2003
7:30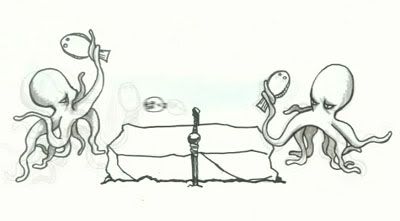 Shorts 2:
Damn! We Love These Films!
短波二:我們他媽的最愛!
我們並非有意用標題來迷惑(誤導)各位。事實是, 今晚將有最酷炫、勁爆、獨創性最強的影片,一網打進,保證值回票價。尤其是「雙面性事」,這簡直是奇葩,絕非語言文字可以形容,一定要你親身來體驗。
No, we're not trying to influence the judges with this program title. We just want to make this night special! Pound for pound, these are the shorts we found weirdest, rawest and coolest of the bunch. Don't miss "Double A-Sex." It's so awesome we can't even tell you what it's about.
Lost Boyz
Stuart Isett/ 8min/ no dialogue
Looking for a Nameless Hero 尋找無名的英雄
Fung Ya-da 馮雅達/ 2006/ Taiwan/ 2min/ Ch/En 中/英
The Ticket 白單子
Kipo Lin 林楷博/ 2008/ Taiwan/ 13min/ Ch/En 中/英
Traveler 旅人日記
Tsai Chueh-lin 蔡玨伶/ 2008/ Taiwan/ 3min/ no dialogue 無對話
Anxiety
Bu Hua 卜樺/ 2009/ China/ 3min/ no dialogue無對話
Dogs of Straw 芻狗
Chen Yin-ju 陳瀅如, James Hong 洪子健/ 2009/ Taiwan/ 11min/ Ch/En 中/英
Ping Bomb 乒碰
Ren Peng-wen 任鵬文/ 2007/ Taiwan/ 1min/ no dialogue 無對話
Double A-Sex 雙面性事
Jan Kai-di 詹凱迪/ 2009/ Taiwan/ 10min/ Ch/En 中/英
8:30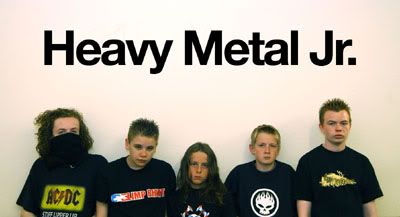 Wholphin 鯨豚
開派對該看什麼影片?鯨豚為我們獻上「重金屬小子」! 一群正值前青春期的叛逆英國小夥子,在老爸老媽的支持下組了一個名為「憎恨」的死亡金屬樂團。沒錯,這就是那種會讓你覺得人生比科幻小說還要莫名奇妙的紀錄片!除此之外,還有關於醉醺醺的蜜蜂和其他瘋狂玩意兒的影片,看完保證你等不及要開始與樂團盡情狂歡了!
We asked Wholphin for a program of party films, and they gave us Heavy Metal Jr., which is about a group of British pre-teens who form a death metal band called Hatred, while their parents drive them to band practice and generally clap along. It is one of those stories that shows that life is stranger than fiction. That's right, it's a documentary. There's also films about drunk bees and other crazy shit. Once you watch these, you will be ready for the bands.
Lucky幸運
Nash Edgerton/ 2005/ Australia/ 6min/ no dialogue無對話
Force One TD能量經典鞋款
Randy Krallman/ 2008/ US/ 12min/ En/Ch英/中
Fantasie in Bubble Wrap泡泡包的幻想
Arthur Metcalf/ 2007/ US/ 4:30/ En/Ch 英/中
Chonto湘投
Carson Mell/ 2007/ US/ 13min/ En/Ch 英/中
Drunk Bees
Brent Hoff, Emily Doe/ 2007/ US/ 6min/ 英/中
Heavy Metal Jr.
Chris Waitt/ 2005/ UK/ 24min/ En/Ch 英/中
10pm
BANDS 樂團演出
My Skin Against Your Skin
(by Andrea of
Rabbit is Rich
)
Deadly Vibes
(
myspace
)
Rock in Hose Burlesque
(有一點類似脫衣舞)
Bob Log III
(
official web site
)
MoneyShot Horns
(
myspace
)
Later:
DJ Floaty
要記得,這究竟是一個party啦!今年我們邀請了美國原汁原味的密西西比河三角洲布朋克魯斯樂手 Bob Log III,用手彈吉他,用腳踢鼓,穿著一件砲彈服裝與摩托車安全帽搖滾!
Remember, this is a party! We are proud to present Bob Log III, authentic Mississippi Delta punk blues (from Arizona)! A former recording star from Fat Possum. He is a one man band, playing guitar with his hands and drums with his feet. He wears a motorcycle helmet and sings into a telephone. He looks like they should shoot him out of a cannon, but instead he plays rock 'n roll!
BOB LOG RIDES A RAFT / BOB LOG 坐充氣船