台北藝術村 台北市北平東路7號
Taipei Artist Village, 7 Beiping E. Rd, Taipei
地圖 Map
7:30pm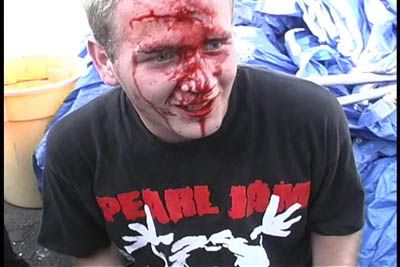 Here Comes Greatness
後院摔角
Matt Luem/ 2009/ USA/ 80min/ En/Ch 英/中
**放映後導演問答取消了,好可惜嘔 :( / there will no longer be a director Q&A
, sorry :(
極度血腥暴力與真實的痛苦! 導演Matt Luem和Greg Fiering耗時七年拍攝,紀錄美國洛城青少年的後院摔角文化,描述他們如何組社區摔角聯盟,探討他們為何感受到站在自作拳擊台上才是真實,其他的一切都是假的。三十年前,加州充滿心懷不滿青年組群,變成朋克於滑板文化的出生地,現在又興起後院摔跤,是新時代的成年儀式或自滅的衝動?友誼、種族、鐵釘、鐵絲網與碎燈泡,再說一次!弟弟不要學,哥哥有練過!
In the backyards of suburban Los Angeles, teens like Andre "Youth Suicide" Verdun and Chris "Mr Fantastic" Jackson hurl each other across makeshift wrestling rings littered with thumbtacks, fluorescent tubes and barbed wire. The blood is real and so is the pain. Director Matt Leum and Greg Fiering spent seven years chronicling the rise and fall of amateur backyard wrestling leagues like the EEW (Evil Empire Wrestling). They followed what would eventually be seen as a YouTube phenomenon by Time magazine and ABC Television, describing kids on the suburban fringe in a search for meaning, friendship and the adrenaline rush of falling off a house or a reckless run through razor wire. Do we need to say…. Don't try this at home.
9:15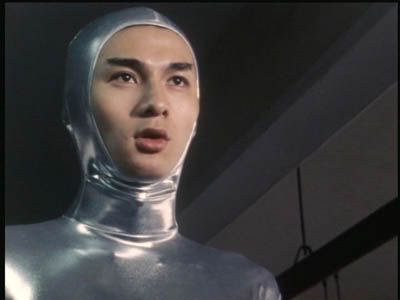 Shorts 1: Romance vs. Nomance
短波一:是真浪漫,還是鬧劇一場?
你以為這只是一般的浪漫喜劇嗎?那你就大錯特錯了,讓人料想不到的劇情發展,保證讓你笑到爆。「Baby Baby」想知道情歌的吉它創作靈感都從哪裡來嗎?絕對讓你一路笑回家。「鎖匠先生的祕密」也普光愛情之秘密之一,若急得找女朋友,一個好方式是獲得諳練對方家裡的鑰匙,不過不是完全保證的嘍!
This section is not about romantic comedy, it's about romance as comedy. (And no, that's not the same thing.) "Baby Baby" is maybe the best movie ever about the where acoustic guitar love ballads come from. "May I Keep Your Key?" involves the best trick ever for getting a girlfriend – breaking and entering. Plenty of schadenfreude for everyone. Oh yeah!
「我說啊」 我說
Ma Kuang-pei 馬匡霈/ 2008/ Taiwan/ 6min/ no dialogue 無對話
Cocoon 繭
Wu Tai-li 伍玳黎/ 2008/ US/ 33sec/ no dialogue 無對話
Milk Man
Su Hua-ya 蘇話雅/ 2008/ Taiwan/ 13min/ Ch/En 中/英
I Dream of Angelina
Norman Szabo, Darrel Gallant/ 2008/ Taiwan/ 1min/ no dialogue無對話
Baby Baby
Cobi Co 柯立壵/ 2008/ Taiwan/ 5min/ Ch/En 中/英
ET Go
Chang Ya-Chun 張雅淳/ 2007/ Taiwan/ 7min/ Ch/En 中/英
May I Keep Your Key? 鎖匠先生的祕密
Chan Ching-lin 詹京霖/ 2008/ Taiwan/ 33min/ Ch/En 中/英
Lure of the Sirens 海妖的誘惑
Kalim Chan 陳家廉, Dmitry Kmelnitsky/ 2008/ US/ 14min/ no dialogue 無對話