What a way to put an end to a week long run at TAV!
The festival was proud to host a q&a with Hsu Ya-Ting
director of the film "Life With Happiness" about the
plight of patients living at Lesheng Leprosy Sanitarium.
As many know, this facility has been slated for
demolition on many occasions, with the latest
deadline extended to June 1st.
Later it was Molmol and "Treasure Hill"
a documentary about an artists
community-squatter village
which was shuttered by city officials
earlier this year. A large crowd of artists, misfits and
anarchists turned out for this viewing: a fitting tribute
to a once glorious, righteous community which hosted UN05.
And then it was on to the big mac, or the film that
spawned a thousand lawsuits and turned a nation
on to healthy eating. Representatives from the Wild At
Heart Environmental Foundation introduced the film and
a young student handed out leaflets about a protest he
was planning against the McDonald's in front of National
Taiwan University on Sunday.
Hey man, everybody got the right to say
what they wanna say, and anyways, we're pretty
psyched cuz he's gonna let us borrow his car to
move our cases of beer to the Nanhai Art Space for
the Friday night showing of ...."Hot Throbbing Cock" at 7PM.
UNO7 screams into its final weekend.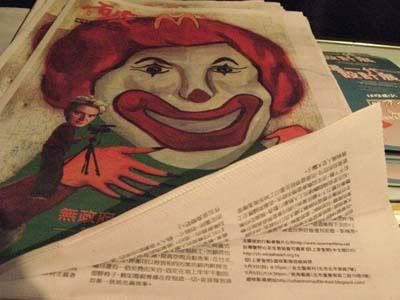 An interview with "McLibel" director Franny Armstrong made the cover of POTS the week of the fest.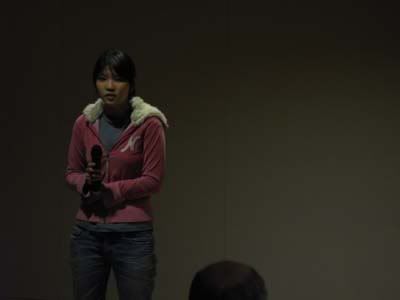 Big props to director and activist Hsu Ya-ting.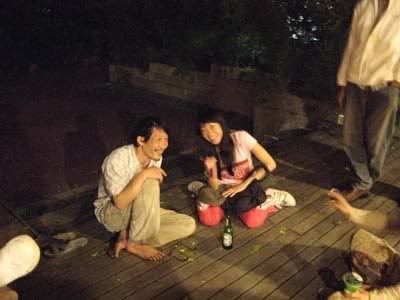 Molmol and Wu Zhong-wei, king of the Treasure Hill squatters.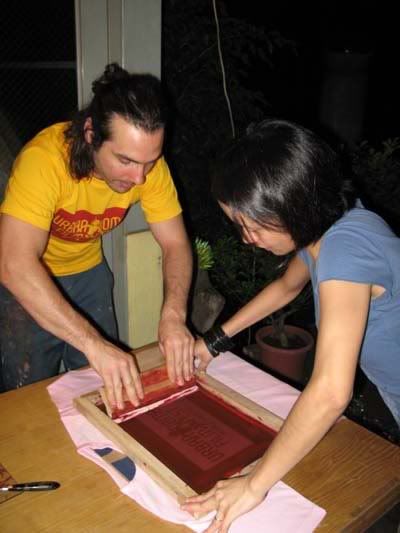 As we were running low on t-shirts, we decided to crank up the t-shirt factory.