The change from outdoors to indoors
was finally accomplished on tuesday
as a large crowd turned out for the chance
to talk to the entire cast of the film "Love Song
in the Memory" by Momo Tseng.
Also, filmmaker and lecturer Lionel
Chok debuted his film "Crossroads"
as well as answered questions about why in the
heck this Singaporean film was done in
Chinese.
His answer "most taxi drivers in Singapore
speak Chinese".
Other directors were in attendance such as Long Yuan-Zhi,
"Night of the Square Boat" (seen in the photo playing
with this cat which also snuck into the theater on
Tuesday night). And there was also bartender Charles,
and filmmaker Wu Tung-Wang of "Hot Throbbing
Cock" who can been seen here guarding our
stash of Heineken.
Wednesday promises to draw a bigger
crowd for our "Asian Upheaval" segment
including a documentary about the Burmese
government's attempt to exterminate minorities
in the north, Martyn See's "Speakers Cornered"
and the humorous film about one man's dream
to go to Russia and study agriculture, "Dr. Zhang".
films festival is finally starting to get its swing o!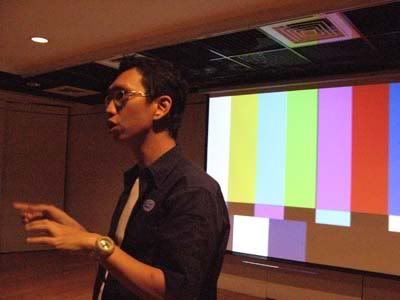 Singapore's Lionel Chok introduces his "Crossroads"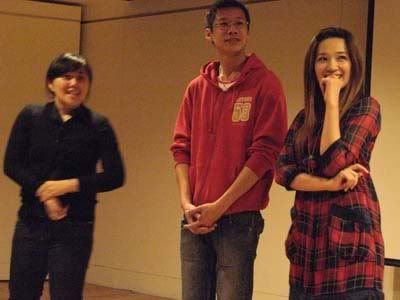 Momo Tseng and cast at the world premier of "A Love Song In The Memory"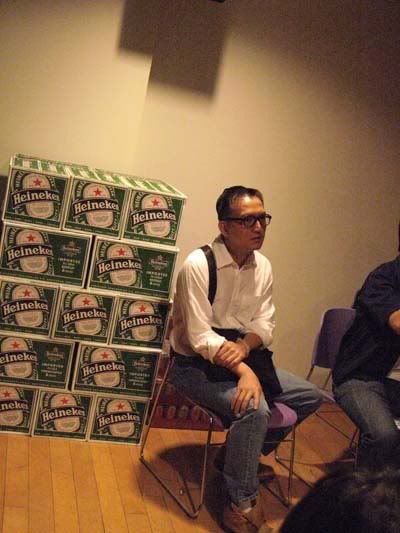 Tung-wang Wu guards the beer.