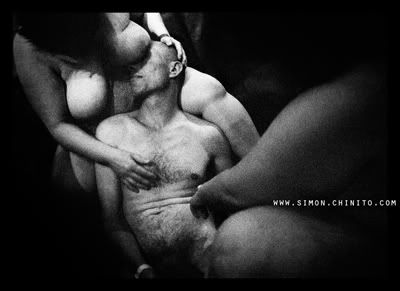 7:00pm
Simon Chang/ 14min/ Czech/ 2009
language: Eng/Czech/Italian __subtitles: Eng/Ch
**screening followed by director Q&A
This Praha Erotica documentary series is not only a behind-the-scenes story of the porn industry in Prague, Czech Republic. With this image montage, I try to question the human side of this trade. After all, for those actors and actress going to the set and having sex with someone they hardly know as a daily/weekly job is certainly far beyond the imagination of most of us. This human side of this business intrigues me, but I'm not trying to make any conclusions here. Instead, I focus on what's happening on what's behind the cameras. It seems to be a flow mixing the most primitive human desires and also the most mysterious weaknesses of mankind.
– Simon Chang, director (2/11/2009)
This film has been selected for the 2009 Transmediale – Festival for Art and Digital Culture, Berlin and is in the collection of the Archive of Video Art from Eastern Europe. Simon's short film Evaporation (2008) showed in numerous film festivals in Europe and Urban Nomad 2009.
SIMON CHANG
is a 31-year-old Taiwanese photographer, filmmaker and writer living in Prague since 2003. Over the last six years, he has used film and still black-and-white photographs to collect stories from eastern Europe, including the prize winning series "They/Oni," a documentary about Bohnice mental hospital in Prague. He applies a rigorous documentary style to his subjects, which have also included Czech huntsmen, a traditional Czech circus family, a remote Roman village in Hungry, and most recently a documentary about the Czech Republic porn industry.
Simon was born in Taipei and began acting in TV commercials as a high school student, appearing in ads for Nissan, Mitsubishi, MTV Taiwan and others. He majored in fine arts at Fujen Catholic University, and received local prizes for short films he directed. For more, see:
www.simon.chinito.com