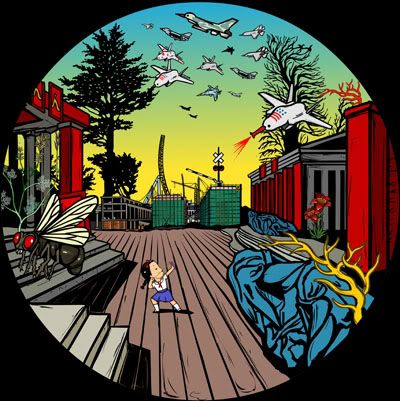 8/29 (六) Saturday 16:40-18:00
(for English scroll down)
節目 // Program
野蛮丛生 / Savage Growth / 3'52"
猫 / Cat / 5'30"
病之城 / Sick City / 7'05"
青春有害健康 / Youth Does Harm to Health / 3'18"
未来荒 / Last Phases of the Future / 3'08"
慌慌 / Anxiety / 3'25"
人造仙境 / Manmade Fairyland / 25'

來自網絡的 Flash 動畫次文化年輕創作者,卜樺住北京,曾參與過兩屆城市遊牧影展。因為她的作品太吊了,這也不是說我們喜歡她而已,2008年她參與釜山雙年展與上海雙年展亞洲的兩個大雙年展,最近大陸歌手左小詛咒也請她做一個新MV,受藝術與獨立音樂各種肯定,所以這次很高興能與卜樺合作在 Art Taipei 2009,做這個特別的節目。以下是卜樺的一個簡單訪問,讓大家更了解她的作品:
妳作品裡面的這個少女生是妳嗎?
一般看完我的系列數字繪畫的人都會說:這不就是你嘛。我開始覺得她不像,直到後來給她的表情畫得很"超然",沒什麼笑容,我突然覺得她有了生命力。
她住在怎麼樣的世界?
基本上就是我每個階段的所謂"精神世界",野生的,懷舊的,超現實的景象,表現的是現實中的感受和人的心性。
妳為甚麼喜歡用Flash來創作?
說到底想要的東西還是"自由",這是我關於人生的答案。做"藝術"好像是我能想到的最好的途徑了,而做Flash是我能想到的做"藝術"的最好的途徑之一。到後來一切都是關乎精神層面的。但是獨立並不等於自由,獨立的人很多,自由的人很少。怎麼樣才算自由的人?我的答案也很簡單:做一個無所畏懼的人,那你就是自由的。自由相伴著真正的喜悅。
對現在的年輕人,網絡算不算重要發表的頻道?對妳自己呢?
當然很重要了,改變新一代人類的處世性格。我很討厭出去"兜售"自己,現在不用了。很多人只需要在家做喜歡的事情,剩下的就是別人來找到他/她。
卜樺歷經:
1991-1995中央工藝美術學院繪畫
1996-1998荷蘭阿姆斯特丹藝術學院藝術
2009年重逢之前,不必驚慌——卜樺個展DAC數字藝術中國
2008年人造仙境—卜樺個展上海聖菱畫廊
大世界:中國當代藝術展美國芝加哥文化中心
現在時雙年展美國舊金山中華文化中心
斯洛文尼亞graphic art雙年展斯洛文尼亞
2008上海雙年展上海美術館
2008釜山雙年展韓國釜山美術館
《果凍時代》台北當代藝術館
《果凍時代》2007.5上海美術館中國
《身份與傳播》2007.8韓國Sungsan Art Hall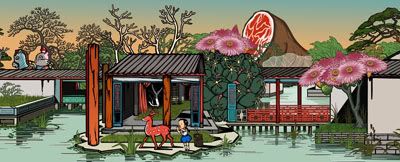 Bu Hua got her chops in the China's flash animation web sites, a free-trade zone for ideas that's a universe unto itself. Even though we have been showing her work for the last two years, it's not just that we love her stuff. In 2008, she was invited to show works in the Pusan and Shanghai Biennials, and she has lately been comissioned to create a music video for legendary Beijing indie singer Zuoxiao Zuzhou. To help you understand Bu Hua's works a bit more by letting her speak for herself, here is a short interview conducted specially for this exhibition:
Who is the girl in your animations? Is it you?
Lots of people see the figure in my digital drawings and ask, "Isn't that you?" I'm starting to think she's not. Lately, the expression I've been giving her has been really detached, with no smile. Now, suddenly I feel like she's taking on a life of her own.
What kind of world does this girl live in?
Basically it's what you might call the different phases of my own psychic world. The scenes are wild, nostalgic and surreal. They express feelings and states of mind from real life.
Why do you like to use Flash to make art?
My take on life is that the thing I'm really after is freedom. Making "art" is the best route for taking me there, and using Flash is one of the best routes to making "art" I've found. In the end, everything is about states of mind. But independence is not the same as freedom. There are many people who are independent, but few who are free. So what does it mean for a person to be free? My answer is simple: To fear nothing is to be free. And the companion of freedom is true happiness.
Is the Internet an important place for young people to express themselves? Is it important for you?
Of course it's really important. For the new generation, it's changed the nature of our place on earth. I really hate to go out and "sell myself," and now I don't have to. A lot of people can just stay home and do the things they like to do, and as for the rest, people will come find them.
Bu Hua: Selected List of Exhbitions:
1991-1995 Central Institute of Arts and Design (Beijing)
1996-1998 Amsterdam School of the Arts
2009
Solo exhibition, DAC (Digital Art of China), Beijing
2008
Solo exhibition, Shanghai Shengling Gallery
Biennial of Graphic Arts, Slovenia
2008 Shanghai Biennial
2008 Pusan Biennial
2007
"Infantization" (group show) MoCA, Taipei
"Infantization" (group show) Shanghai Art Museum