IT'S ON!!! NT$5000 Prize for best short film from Taiwan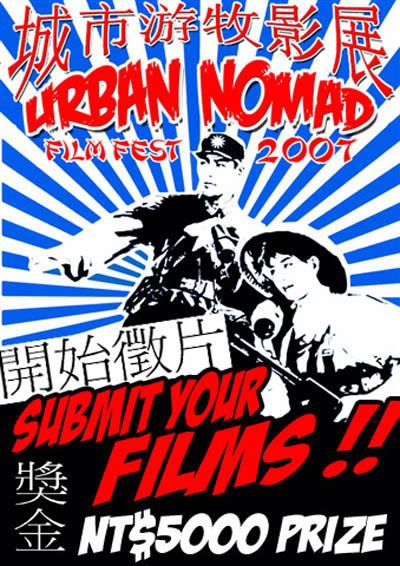 Urban Nomad, Taiwan's only underground film festival, is seeking entries for this year's big to-do, which will be held in Taipei in late April/ early May.
We want films that push boundaries, that challenge conventions, that hit home, and are generally not included in other film festivals: experimental film/ video, animation, comedic shorts, political documentary, music documentary, skateboard/ surfing, gender, migrant workers, Internet shorts, North Korea and Iraq.
Due to our limited schedule, there are only so many films we can show, so shorter films (under 15 minutes) stand a greater chance of getting accepted. Also, films need to be accessible to both English and Chinese speaking audiences, which means films with subtitles and subject matter pertinent to Taiwan will be given priority.
If your film is accepted, you will be invited to an opening party, toasted royally, and potentially asked to speak before the screening of your film. We are also offering a cash prize of NT$5,000 for the best original short from Taiwan -- regardless of category.
ENTRY DEADLINE: MARCH 26, 2007
FORMAT:

DVD, MPEG, VCD (for some accepted films, we may later ask for mini DV, beta SP or other high quality versions)
ADDRESS:

#2, Alley 1, Lane 12, Jinmen Street, Taipei, Taiwan
地址 :

臺北市金門街12巷1弄2號
Questions/contact:

urbannomadfilmfest (at) gmail.com
Download application forms:
here