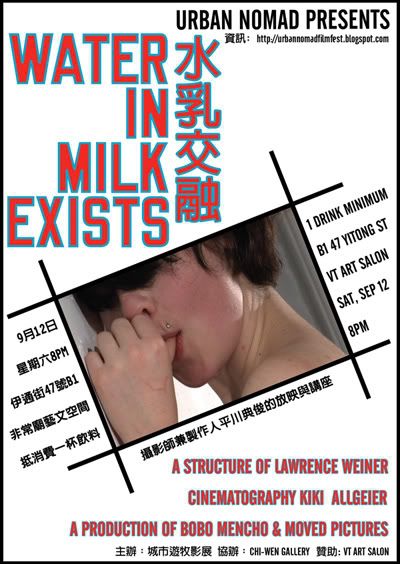 Hi everybody. We quite suddenly were presented with the opportunity to show you something rather weird, a 22-minute film by American artist Lawrence Weiner called WATER IN MILK EXISTS. It happens this Saturday at 8pm, and the film's producer
Noritoshi Hirakawa will be there to talk about both the film and his own work. Noritoshi is an interesting character, an internationally known art photographer who is famous for taking pictures of women's underwear.
The screenign will take place at VT Art Salon, and admission only requires that you buy one drink.

But before you come, we should probably mention that if you are easily offended by porn, gay porn, blow jobs, or abstruse philosophy, this just might not be for you. Here is how one of the world's top art magazines Art Forum reviewed the film: "
This nonnarrative porn is full of twenty-somethings fucking, sucking, playing, and masturbating in the Swiss Institute's SoHo loft and a Chinatown photo studio. Scenes alternate between often-thrilling hardcore porn and contrived and tedious philosophical musings about 'personal definitions of reality' and 'string theory.' Like a switch flicked too soon, stimulation teasingly turns on and off." (
Read the entire review
.) Also, the film is in English with Chinese subtitles. Discussions and an introduction to the film will be bilingual in English and Chinese.

This screening of Water in Milk Exists will be held in conjunction with Noritoshi's exhibition UNFOLD UNIVERSE at Chi-Wen Gallery, which opens earlier the same day from 3-6pm. This is a rare chance to hear the often outlandish Noritoshi discuss his art and its relation to pornography.
20:00 get your seat
20:15 introduction to film and artist
20:35 screening of "Water in Milk Exists"
21:00 Q&A with Noritoshi (the artist)
21:30 cocktail time
Date: 8-10pm Saturday, September 12
Location: VT Art Salon, B1 #45 Yitong St
Price: 1 drink minimum
Presented by: Urban Nomad
Co-organizer: Chi-Wen Gallery
Support: VT Art Salon