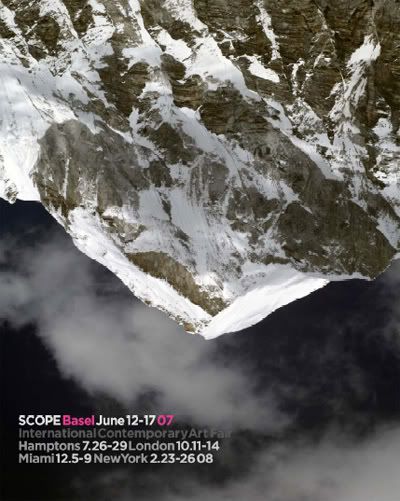 今年的城市遊牧影展延續至瑞士巴塞爾 (Basel, Switzerland) 的世界最重要的藝術博覽會之一的
Scope Art Fair
從6月11-17日放影片。Scope將這屆的獨立策展人獎給予城市遊牧總監 David Frazier 而且邀請他到巴塞爾帶許多亞洲影片與video 藝術作品參展。這次的影幕是展覽大廳的一面,一走入大門就不得不看到。 因為活動的形式是藝術博覽會,觀眾會包含許多收藏者,策展人以及各種各類的藝術界夥伴,因為博覽會進行的時間剛好是兩個非常重要藝術活動的開幕中間, 就是威尼斯雙年展與德國的五年一次辦的 Documenta ,可見力算滿高。我門很榮幸有這個機會結紹台灣、香港、中國、新加坡、菲律賓、印尼以及他地的影片在世界的舞台上。
Scope中我門會把當天的放影時間表公佈在
下面
。
The
Scope Art Fair
has named Urban Nomad Film Fest's director David Frazier as recipient of its "Independent Curator Award" and invited Urban Nomad to show its program of films at its upcoming fair in Basel, Switzerland from June 11-17. The screenings will take place in a booth immediately everyone walking through the fair's main entrance and will include most of the 28+ hours of programming at 2007 Urban Nomad Taipei as well as additional segments of video art, films by the Philippine rights and film collective Southern Tagalog Exposure, and other recent discoveries.
During the fair, daily screening schedules will be announced
below this post
.
Urban Nomad's big mission or whatever is to put an end to the impersonal "black box" of the movie theater, to stop this situation where people just watch the screen and ignore each other. Sure, film can be profound, but on the whole we are against elitist film nerds (and art nerds) because movies (and art) are in the end for everybody. That's why we show both video art and skateboarding videos, and also why we'll be at Scope Basel, an art fair that's not afraid of the fringe, where we'll show some crazyass shit on a screen at one end of the fair's exhibition hall next to a bar. It'll happen at least ten hours a day for the duration of the fair.
Urban Nomad is based in Taipei and has been held over the last six years in warehouses, train stations, courtyards and lawns, but never in the same space twice. We show films from Taiwan and all around southeast Asia, North America and also Taiwan's "arch-enemy" China.
In doing this festival, we've seen an underground or indie network forming directly between scenes wherever they happen to be. Yeah, yeah, we know the Internet is a "second channel" for bypassing pop music, Hollywood and big media, and we'd be idiots if we didn't tap into it. But unlike computers, we bring people face to face. The idea is to think globally and act locally, to realize that Malaysian kids, for example, have a lot to say to Taiwanese kids and vice versa, and work for a new kind of "virtual" community.
K, cool shit from Urban Nomad 2007 includes at least 6 hours of programming from the
Axis of Evil
, including documentaries from North Korea and Iran; shorts by
Eko Nugroho
, an Indonesian whose cartoons are like an anti-capitalist version of the tripped out intros to Monty Python's Flying Circus; we have a computer-animated saga of flame wars in Taiwan's university Internet bulletin boards by
Lin Shi-yong
, a film that's been downloaded tens of thousands of downloads but never entered a serious film festival; video works by Taiwanese bluechip artists, including
Chen Chieh-ren
,
Peng Hong-chih
and
Kuo I-chen
; weird, hilarious selections from the DVD magazine
Wholphin
, a multimedia spin-off of the San Francisco-based indie literary publishing house McSweeneys; and oh yeah, all kinds of home movies about skateboarding, surfing and one Super8, DIY parody of Star Wars where the Force = marijuana.
Boilerplates: The
Urban Nomad Film Fest
was founded in Taipei in 2002 by two expatriate journalists, David Frazier and Sean Scanlan. In its sixth edition, in April-May 2007, it screened over 100 films and 28 hours of unique programming.
Scope
is a cutting edge fair for contemporary art founded in 2002. It has been held New York, Miami, Los Angeles, London, and the Hamptons and this year debuts in Basel.
Event:
Urban Nomad Film Fest at Scope Basel
Dates:
10am-4pm, June 11 (Opening)
10am-8pm, June 12-17 (General Admission)
Press Conference:
2pm June 12
Venue:
E-Halle, Erlenstrasse 15, CH-4058 Basel
Tel:
Dave +41-79-377-0556
Email:
urbannomadfilmfest (at) gmail.com
Web:
http://urbannomadfilmfest